So you're in town for Steampunk unLimited?
Here are some great things to do!

Steampunk unLimited is such a cool event, and brings such an awesome group of people to Lancaster. We're home to world-renowned scenery, cuisine, history, and fun. During your downtime, explore the sights around you and find some exciting ways to spend your days. We've compiled a list of great places for you to visit while you're here. Don't forget to bring your camera!
Things To Do While At Steampunk
Aside from the great program at Steampunk, Lancaster does have a great assortment of things to do. Whether you come early, stay late, or do these in between events at Steampunk, check out these great things to do in Lancaster.
Strasburg Ghost Tour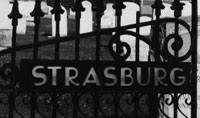 Chasing spectral beings … in full Steampunk regalia! What could be more fun? The Strasburg Ghost Tour is an institution, and one that would be quite amusing to complete donning something you would wear at Steampunk.
Cherry Crest Adventure Farm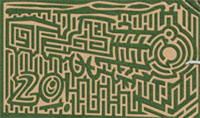 A corn maze … in full Steampunk regalia! (Noticing a pattern?) Cherry Crest is the a-MAIZE-ing corn maze of Lancaster County, and is a ton of fun (with or without the outfit). Check it out in the dark with (or without) flashlights.
Railroad Museum of Pennsylvania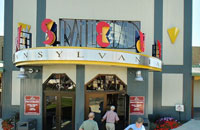 Directly across the street from the railroad, you will find the state railroad museum of Pennsylvania. It is an oasis of locomotive history with all kinds of trains and information thereof. Make sure you carve out two hours or so to tour it during your weekend.
Lancaster is renowned for its burgeoning art scene, and nowhere is that more prevalent than in its abundance of art galleries. Some of our favorites are listed on the art gallery page.
Great Spots to Shop
Lancaster has big-city caliber shopping in the charming atmosphere a smaller city cultivates - it truly achieves the best of both worlds. From costume shops to coffee houses, boutiques to holes-in-the-wall, there is an abundance of great shopping in Lancaster.
300 Queen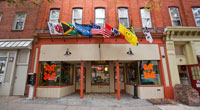 An entire block with a "quirky, eclectic selection of retro, antique and collectibles shops, brand-name fashions, a glass studio, art galleries, casual cafés, and Downtown Lancaster's only collection of indoor shops." It's terrific.
BUiLDiNG CHARACTER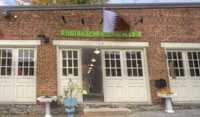 On the aforementioned 300 block of queen, BUiLDiNG CHARACTER is Downtown Lancaster's largest retail destination and its mission is simple: offer vintage, recycled and handmade goods at great prices. Check it out!
A Random Sample of Lancaster Instagram Photographers
Black Kat Kollectibles Vintage Shop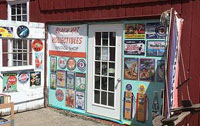 Vinyl records, vintage clothing, collectibles, housewares, kitchen items, and artwork anchor the inventory of this haven of great shopping in Lancaster.
Rockvale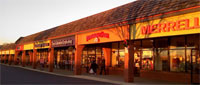 An outlet bonanza with an abundance of interesting stores to explore. Remember, clothing has no sales tax in Pennsylvania!
Places To Eat
From authentic micro-breweries to great Al Fresco dining, the breadth of the culinary options of Lancaster County is astounding for a city of its size. Here are some of our favorite places to eat near Lancaster.
The Belvedere Inn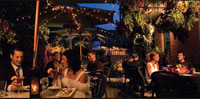 For unique fine dining – even an Al Fresco option depending on whether you're willing to brave the elements – check out the Belvedere. It's awesome.
Iron Hill Brewery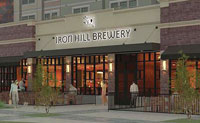 A terrific atmosphere for a fantastic brew, Iron Hill Brewery is one of the newer, trendier places to eat in Lancaster. The food is great too.
The Fireside Tavern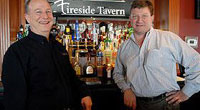 The obvious choice in terms of its proximity to the railroad is the best restaurant in Strasburg, the Fireside Tavern. It has an awesome selection of food. The tavern fries are worth the caloric onslaught.
The Speckled Hen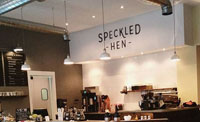 For a great cup of coffee in Strasburg, check out our newest coffee shop, The Speckled Hen! You will think you walked into an artsy metropolis, and then walk out to realize you're still in the idyllic countryside.
Sugar On Top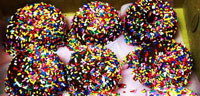 Who doesn't like doughnuts? Sugar On Top has gourmet doughnuts. Gourmet + Doughnuts = Delicious. Try the bacon doughnut. It's worth it.
Great Photo Spots in Lancaster
One of the best parts of dressing up is posing for photos that appear to be a wrinkle in time. Here are some great locations to try that out.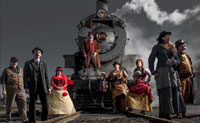 Strasburg Railroad
Look at that photo! Can you say "awesome"? We don't plan to say any more than that.
Streets of Lancaster
Take some friends, your garb, and your car into the city, and you will surely find some unique backdrops for an outstanding, one-of-a-kind photo. We'd mention some potential spots, but that would ruin the fun for you!
Lancaster AMTRAK Train Station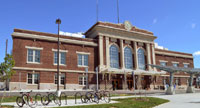 AMTRAK has a station in Lancaster. It's an old brick building. You can explore the juxtaposition between the steam trains of yesteryear and the sleek, high-speed models of today with an ironic, witty photo.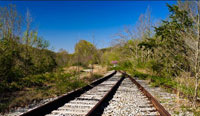 Abandoned railroads are always an interesting photo spot, and the closest one spanned from Quarryville to Lancaster. Check out the map at AbandonedRails.com for more information.
Please Like Us On Facebook
Share This Page
naltrexone buy uk
buy naltrexone online usa
tonydyson.co.uk
where to buy low dose naltrexone
Lancaster County Event Calendar
Places to Stay
antidepressant sertraline
buy sertraline online
truonggiang.net
buy sertraline 100mg