buy antibiotic online
buy amoxicillin uk
click
amoxicillin 500 mg capsules
Art Galleries in Lancaster PA
Annex 24 Gallery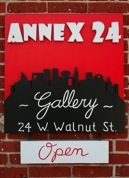 With over 125 different shops and art galleries in the Downtown Art District, including multi-artist galleries, artist co-ops, auction forums, industrial art, glass, ceramics and wood, the scene is bustling and ever-evolving. Not to mention the Fulton Theatre, Convention Center and Barnstormers Stadium and of course its keystone; Downtown Lancaster's Central Market.
Discerning Eye Center for the Arts (DECA)
Community Center, gallery, Music Venue, Studio Space, Event Space, Artists
website |
map it
|
717553-5281
|
12 West New Street

,

lancaster

,

Pennsylvania

, 17603
Conveniently located a short 3 blocks from Lancaster Train Station (LNC) and just 1 block from Downtown Lancaster City, The Discerning Eye Center for the Arts is the newest, most accessible creative, collective space for Artists in the Tri-State Area.
Freiman Stoltzfus Gallery

Freiman Stoltzfus is a native of Lancaster County, Pennsylvania. He was born into an Amish-Mennonite family, the youngest of six children. From an early age, his artistic ability was recognized and encouraged, and he began depicting the people and landscapes of the Amish community.
Suzanne H. Arnold Art Gallery
map it
|
101 N. College Ave.

,

Annville

,

Pennsylvania

, 17003
A Random Sample of Lancaster Instagram Photographers
Please Like Us On Facebook
erectile dysfunction treatments
buy viagra online cheap
mipnet.dk
buy viagra tablet
Share This Page
naltrexone buy uk
buy naltrexone online usa
tonydyson.co.uk
where to buy low dose naltrexone
name of abortion pill in uk
abortion
pill
online

Lancaster County Event Calendar
Places to Stay
antidepressant sertraline
buy sertraline online
truonggiang.net
buy sertraline 100mg