An Interview with Kathy Frey
Kathy Frey, owner of Festoon, took some time to tell us about her artistic evolution through the years, and how it's come full-circle. Read on to learn more about her!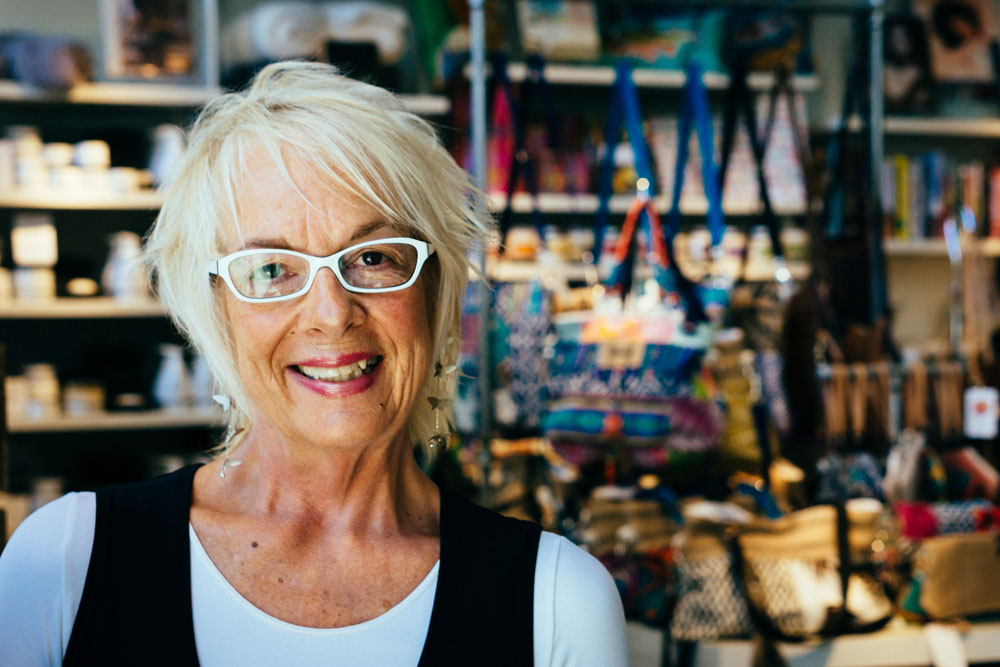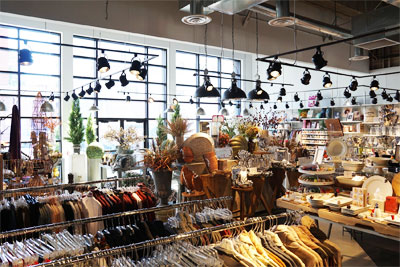 Kathy, here we are in your store. Can you recall back...where did this all start? What was the drive that led to this?
A driving need to be in business for myself. After a time of not being in business for myself, always having a management background, led me right into (inaudible), and having the joy of entrepreneurship included in what I do every day. And, just the excitement, and the passion - bringing it to the surface again. To start up another business and watch the success grow.
How long has it been now that you've had Festoon?
Over twelve years, I had a flower shop for twenty years, then took a little hiatus. Then, I went to a garden center, and was a home design manager. Trying to sit behind a computer for a couple of years just was not working. So, that was the period of time when I knew I wanted to be included in Lancaster's growing business culture, and be a part of the city's growth.
So, a lot of this, you're talking about business, and management, and managerial, but, when I look at you, and I look at your store, I see "artist". It feels to me, reinforced by you not wanting to sit behind a computer, this is where your passion is. You want to be inspiring art. Tell me about that.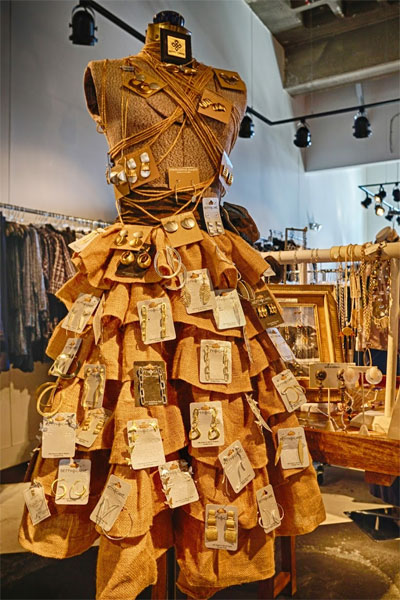 Well, the art background is the real deal. I went to art school in Pittsburg for fashion illustration. That opened up my creative brain to texture, and color, and design, and balance, which plays into the way I merchandise, as well as everything I have in my two stores. It's like playing every day, and expressing myself through all of that.
It's led me to the moment that I'm in now, where I'm designing my own clothing line. We just secured a factory to do that. So, I'm actually realizing my dream, and continuing the dream with creating jobs, and putting my dreams into action with those colors, and designs, and textures.
There's a lot more behind-the-scenes in my brain, and it's an expression. So, you're right, the passion part is bigger than the managerial and business end.
Obviously, you've done very well with the business and managerial end. You're in this great new building. You had the foresight to see the growth of this block. Do you find it's rare that somebody has artistic talent, and also a good business talent?
I think the only reason it might be rare is that most people are not open to their gifts and their passions. They don't make them real. Fear is a big reason why people don't realize their dreams. So, it being rare is probably true, but once that entrepreneur digs deep inside, and realizes that thinking big, and thinking out of the box, and being so deeply invested in who they are, it is possible for anybody. It is possible for all.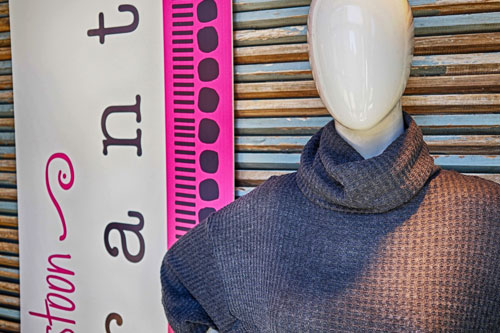 You've done this with Festoon. For people who don't know your shop, describe it. How is it a reflection of you? What can we find in here?
Well, I've referred to both of my boutiques as mini-department store boutiques. There are unlimited categories. That comes from my desire to create an environment of an emotional experience. When someone walks in, they're not here just for clothing, or here just for jewelry. They're here to see the complete collection of home décor, personal care, and locally-made goods. It's all part of building on the initial business plan that I had, which was to include everything that was in my brain, which was the color, the texture, the design. And, it just built on itself.
If I brought in an orange-colored sweater, it just made really good sense to me to bring in something that merchandised well with it. That orange could be a floor covering, it could be a card, it could be a candle. And, it just grows from there. That's how I do all my shopping when I go to market. It builds on itself. As well as categories that I know people are looking for.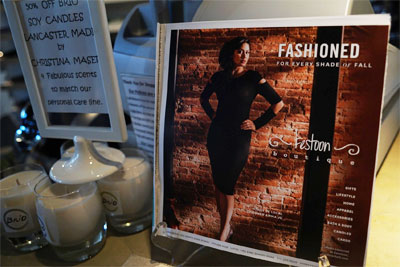 When you say "go to market", you mean fashion market?
I'm talking about some of the world's biggest markets for retail. Those are the Atlanta's Mart, and Georgia, and New York.
So there are two you go to per year?
I'm in New York probably about 8-10 times a year. Atlanta, twice a year.
Okay, so, when you go to these, you're seeing all of the latest stuff to fill your shop with?
Yes.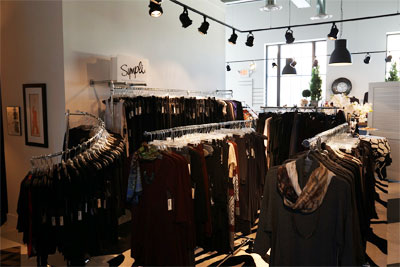 How are you staying on top of all of this? How are you getting all the right fashions?
By reading. By translating. When I do go to market, making sure I visit any showroom that's forward-thinking in color trends, and design trends, whether it be clothing, or home décor. Just making myself aware through studying magazines, TV, anything I can get my hands on.
This is driven also by passion, not just be a business sense, right?
It is. First and foremost driven by passion.
Now, not all of this stuff, as you pointed out earlier, can be acquired at these markets. You carry a lot of local artists, which aren't represented, I'm guessing, in Georgia, or New York. How do you come to find your artists? What is your criteria, and selection process?
Well, probably within the last couple of years, with growth, and the size of my store, and the success that we've had, many of those entrepreneurs are finding me. However, before then, it as a search on my part. Keeping my ears and eyes open to what is out there in our local market, and our local culture, that portrays sustainability, and locally-made goods.
Because, my clothing line is all being sourced in Lancaster County, and that's what I'm looking for as far as local entrepreneurs are concerned. So, it's all about me searching, and asking questions, and then some of it is about them approaching me.
So, it's not all about the product? It's about how they run their business as well?
It is, definitely. And, even things that are made in the United States, outside of Lancaster, and even some overseas lines. I search and research factories, and how they're run. Whether it's fair-trade, or not. It's very important to me.
Great. One of your local connections is Christina Maser, her candles. And, you actually have some scents that are exclusive just to your store? So, that's pretty cool.
Yeah. I think it's a very beneficial way to do business, to find sources, whether they're local or not local, that you make exclusive to your own business. I think it adds another layer of success.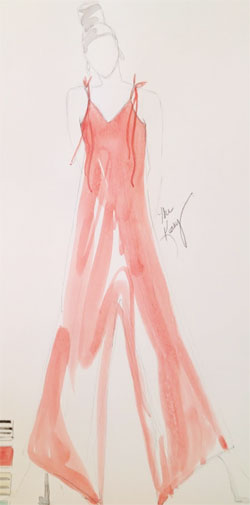 To go back a little bit, you say you have a degree in fashion design. So, you can illustrate. And then you went to flower design…
Yes. Out of school I went to the Art Institute, and then beyond that I illustrated for Hager's Department Store here in the city.
What kind of illustrations were those?
Fashion illustration. I appeared in the Lancaster Newspaper. It's archived there now. It's yellow and falling apart, but it's archived there. Illustration was the groundwork for my art.
You're saying for your art, you also have other art outside these job. What I'm getting at…do you have artistic hobbies? Drawing? Painting?
(laughs) There is no time for hobbies! Most of the art that I'm able to do now is illustrating for my own line. So, I'm back to the drawing board so to speak. There is now current artwork of my own.
Would you be interested in sharing one of those pieces for this interview? That we could post?
Yeah, sure!
So, from where you started, you've dabbled in a lot of different things. Now you're back to where your passion was in college to design clothes. That must be so rewarding. You finally got there!
It's the ultimate! I'm a woman of faith, so I'm feeling very blessed. God has given me an amazing gift, and I'm just here to share it.
When your clothes do come out, what are you trying to solve, or bring to the table?
Affordability. Design. Mix and match. Comfort. Locally-produced.
Very excited to see this when it comes out! You said today you were having a trunk show. Can you explain what that is?
A trunk show is when a manufacturer, and your business, create a relationship. A partnership, so to speak. They send their goods in whatever quantity you agree upon, and it can either be ordered, or it can be purchased, during this designated block of time that you both agree on. And, that's what we're doing today.
We have a trunk show. We are this trunk show's largest retail venue on the east coast, so we have it for over two weeks. We've grown it for over ten years.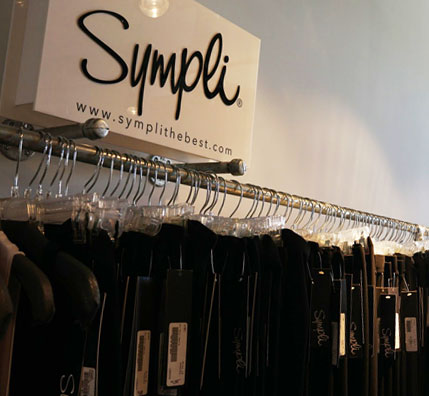 What brand is this?
This is a big brand for you here?
It's a very big brand.
So, you're saying during these two weeks, you can get products that you normally can't get?
We are showing samples of products that are brand new designs. However, we have lots of stock hanging that our customers can purchase right away right off the rack. But, there's about seventy-two designs that they will be placing orders for in thirty-seven colors.
For the women out there that want to stay on top of fashion, and be somewhat exclusive, they would come to a show like this, order their styles, and be the first to have them?
Sure! And, along with that comes the impeccable customer service that we always offer. Not only do we have these designs, but we have the ability to put our customers in beautiful pieces and articles of the Sympli line, accessorized, and in their correct sizing, so that they walk out feeling they have some beautiful mix and match clothing to take home.
So, they not only get the latest, but they also have help putting it all together?
Yes. Our customer service is also right at the top of what I believe in as a business owner. There's no other way to run a good business than to be direct and honest and helpful when it comes to assisting people in selecting whatever it is they want to walk out the door with.
That's one thing I've noticed about Festoon. It's your top-of-the-line service. Free gift-wrapping. Every item comes in a beautiful package…
Yes. It helps for us to feel good about what we are offering. The customer doesn't ever have to worry about going elsewhere to complete the gift, or complete their look, whatever they choose, whether it's for their home, or their body.
We talked about someone coming in and you helping them with their look. What about someone coming in looking for gifts for someone else? Say, a husband looking for something for his wife. Are you able to provide assistance there?
Sure. There's a series of questions that we would always enter into to find out, or translate, what that customer is looking for. Who are they giving it to? What are they like? What does their home look like? What is their size? What colors do they traditionally wear? If they don't know any of those answers, we just find good generic gifts that seem to be proven winners. It's never a problem to find something for anybody.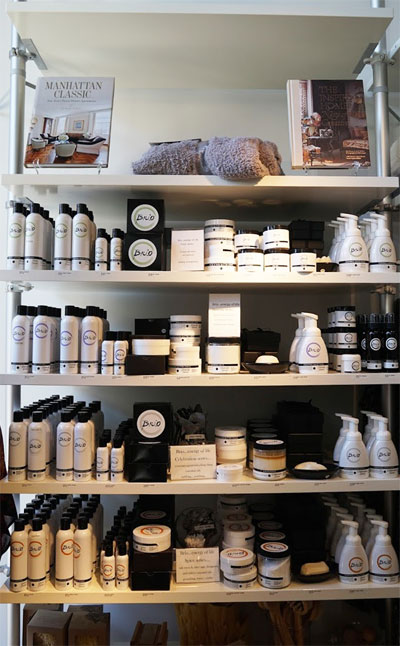 Do you want to talk about some of your top lines? Is there any product here that you want to highlight?
For one, our personal care line called Brio, which is made here in the city just up the street. It's being made by someone who has a lot of credentials in the world of essential oils, and wellness. So, we have a complete line of personal care in four different fragrances. It's called Brio, and I'm extremely proud of that.
I'm also very proud of the textile designer who studied, and came to Lancaster, and started her business called Betsy Olmsted. It's textiles of hand towels, and table runners, and pillows, and aprons. I'm very proud of those two. Also, J Almodovar, which is a line of handbags that's locally-made. Just beautiful sewing, all of it made locally, some using recycled burlap from Lancaster Coffee Company. She's just very much about sustainability. Those are the lines I'm really proud of. Of course, with my line, Selga, that's starting in the spring…that will be another one added to that list.
I love the fact that we're exclusive in many of our lines. That's another big component of my success. Exclusivity. It just makes us unique and different.
Is that the case with Sympli?
It is.
Sympli, if I recall, has solved a unique problem, at least for women, with the long tunics? What other kinds of features does Sympli have? They seem to a different brand…
It's a brand that was designed by a woman, and she sources out her sewing to women in their homes. They don't have a factory that produces, they source all the sewing. The material is cut in-house, but the sewing is done in women's homes. They don't have to leave their homes, and they can be with their children, and their families. That's a very unique feature. The other feature is that it's totally mix and match. They're very much on top of the design trends, and yet it's a timeless design company.
I guess the word I was looking for was "utilitarian", but, still super fashionable.
It can go into evening. It's very expressive in design. Tops, bottoms, coats, sweaters…it's great. It's a wonderful line. It's a big part of my success.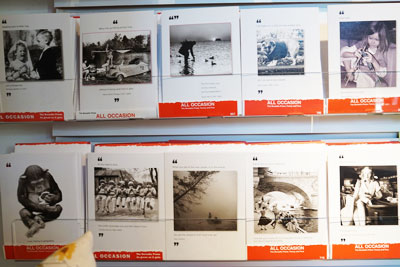 Tell me about your greeting card line.
They're all recycled paper cards. One of them I've had for the entire twelve years. It's called Artists to Watch. It's a group of artists, each of them has their own style, but it's under the umbrella of that brand name. Again, proud to say it's recycled. No one else in the city, or surrounding areas, has it. The other three or four lines we have are different, and unique. Definitely not Hallmark products. They're minimal in that they have the greetings on them, yet very direct, and some of them are a lot of fun.
So, a lot more thoughtful?
Yeah.
And you also carry a wide array of readers?
Yes. People come here for those, and our sunglasses. We believe we have the best, and the largest, selection in the area. They're funky, and fun, and well-priced.
I know that your dogs play a big part in your life, in your marketing, and in your store. Can you tell me a little bit about that?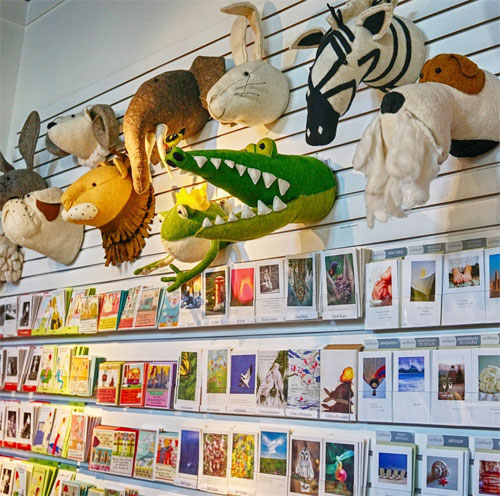 Yes. I have a deep-rooted passion for animals. Years ago, I had horses, and always dogs in my life. So, Turk and Millie came along after I lost my first dog, Selga, which is the name of my clothing line. She was seventeen years old. The passion runs very deep for animals.
I was born and raised in Manheim on a farm, and so I'm really a farm girl at heart, and I love animals. Turk and Millie are little mascots. People look for them when they come, and if they're not here, we periodically put them on our Facebook page. I believe they're on the website somewhere.
They were also an inspiration for Take Your Dog To Work Day, which we had grand success with. We donated large amounts of money to the SPCA, and also the Canine Patrol here in the city. They were here that evening.
We had over fifty dogs in the store. We're a dog-friendly store. Any day, we can have anywhere between 5 and 10 dogs in the store. People bring them in to the dressing rooms. They bring them in in pocket books. They're always welcome as long as they're well-behaved. Turk and Millie were the heart of that movement.
I would say there's influence in your product choices that prove you're an animal lover.
Definitely. The little felt heads are just a fun way to have more animals in the store. You can mount them on the wall. They're good in kids' rooms, and they're just a whimsical decoration. We sell lots of those.
Great. Well, thank you so much for your time, Kathy! We've learned so much about you today.
A Random Sample of Lancaster Instagram Photographers
Please Like Us On Facebook
Lancaster County Event Calendar