buy antibiotic online
buy amoxicillin uk
click
amoxicillin 500 mg capsules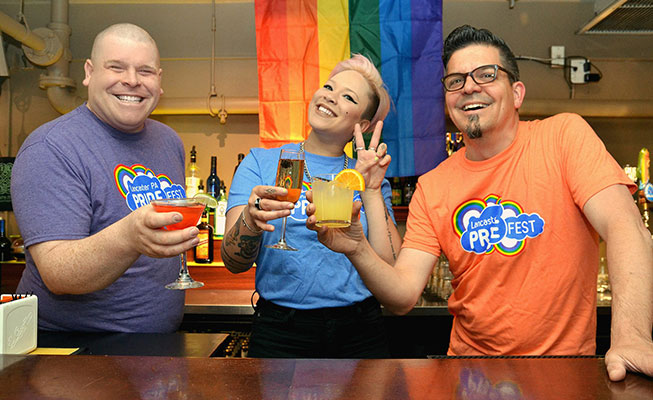 photo by Kathlene Sullivan for Character's Pub
Lancaster Pride Fest 2017
To wrap up Pride Week 2017, the organizers of Lancaster Pride Fest (this Sunday at Binn's Park from noon - 6 p.m.) are gearing up for the biggest event ever in the festival's 11-year history.

Zac Nesbitt, festival co-organizer along with Rowena Stein, says they're particularly excited to implement one of the most important pieces of feedback they received after last year's festival: American Sign Language (ASL) interpretation for the entire festival, from the speeches to the music to the drag shows.

Musical performances will include the dance-inducing PA Mambo Orquesta, as well as Lancaster treasure Bobbi Carmitchell, the singer/songwriter who stunned the crowd last year with a heart-rending performance of a song she wrote as a tribute to those we lost in the 2016 Orlando tragedy.

Zac says that Lancaster Pride Fest's relaxed, hometown vibe is what draws people to our city's event. "We're the lowest price in the region [at $5], and people get all the same things they would at a bigger city's Pride Fest, but with our small town hominess."

People come into Lancaster from 3-4 hours away in all directions, says Zac, adding that one piece of feedback from last year sticks out for him in particular: a Facebook comment left by a Philly resident on his way to Lancaster Pride Fest via Amtrak, because in their words, "I'll just hop on Amtrak and head up to Lancaster Pride, where there is a community that knows how to get along".
All the Details:
When: Sunday, June 25, from noon - 6 p.m.
Where: Binns Park - 100 block of N. Queen St., downtown Lancaster
Cost: $5 entry fee (children under 12 attend for free)
Schedule:
12 p.m. - Opening remarks; remembrance of those we lost in Orlando just over 1 year ago
12:20 p.m. - Music performance: PA Mambo Orquesta
12:50 p.m. - Drag Show #1: a full range of kings and queens who have been working on this for months, all ready to slay!
1:50 p.m. - Music performance: Fierce
2:30 p.m. - Music performance: Anthony Bruno
3 p.m. - Drag Show #2
4 p.m. - Music performance: Bobbi Carmitchell
4:30 p.m. - Drag Show #3
5:30 p.m. - Dance party with DJ Salinger
Other features include:
Special guest appearance by Shannel of Ru Paul's Drag Race Season #1
Activities for kids
Tons of vendors
FOOD TRUCKS!
A Random Sample of Lancaster Instagram Photographers
Please Like Us On Facebook
Share This Page
naltrexone buy uk
buy naltrexone online usa
tonydyson.co.uk
where to buy low dose naltrexone
Lancaster County Event Calendar
Places to Stay
antidepressant sertraline
buy sertraline online
truonggiang.net
buy sertraline 100mg