buy antibiotic online
buy amoxicillin uk
click
amoxicillin 500 mg capsules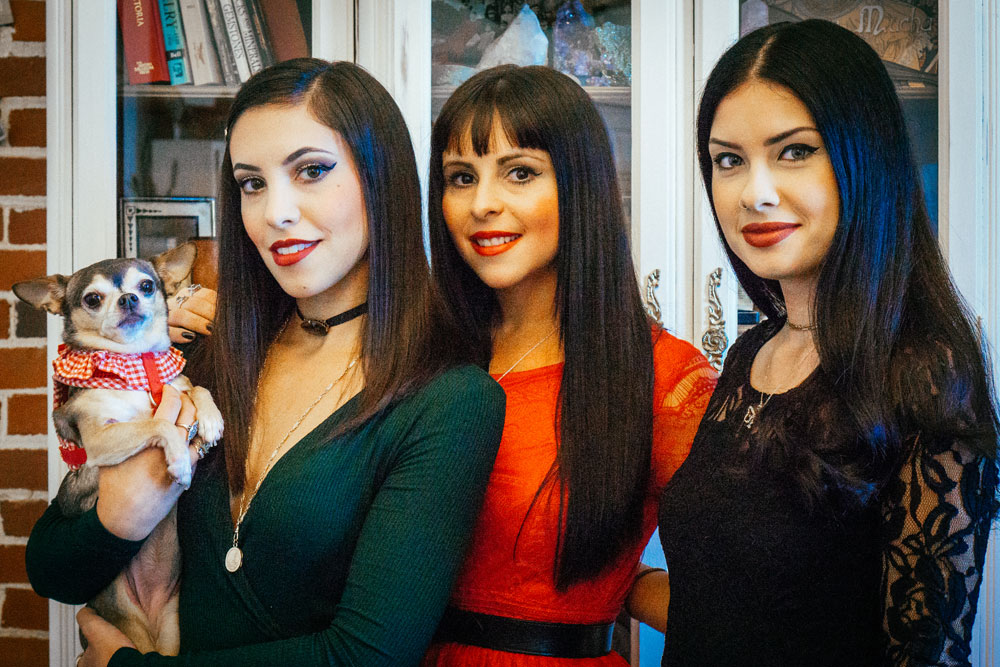 An Interview with Laura Mae, Amanda Jean and Dahlia Jean of Maejean Vintage
Laura, Amanda, and Dahlia, of Maejean Vintage took some time to tell us how they turned a hobby into a thriving and successful business starting with one black jumper. Read on to learn more about these fabulous gals and their skills for spotting the gems.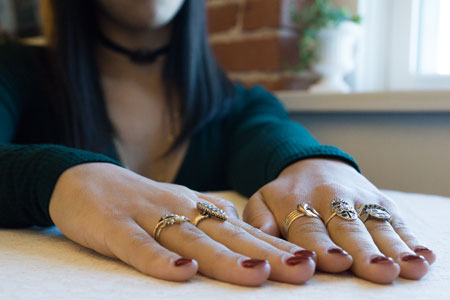 This is the three of you that run this company?
Amanda: Yes.
And two of you are sisters?
Amanda: Laura and I are sisters, and the owners. And Dahlia is our part-time, almost full-time, employee.
It's almost like you three could be sisters! You all have an identical look!
Amanda: We get that all the time!
Laura: Yeah we do!
Amanda: Sometimes we just say we are!
Dahlia: I guess it's the dark hair and the red lips.
How long have you been doing this?
Laura: Officially, it's been about six years that Maejean Vintage has been in business.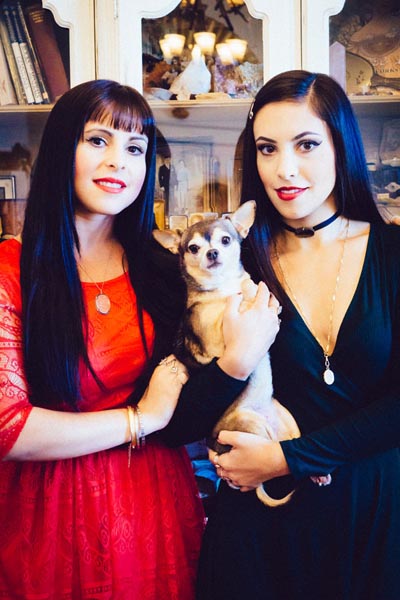 And it's the two of you sisters that own it? Where did this idea start?
Amanda: Laura founded Maejean Vintage in 2010. Prior to that, we were going to auctions and estate sales, and collecting tons of vintage jewelry, and clothing. It all started with Laura listing a vintage find on Etsy.
Laura: It was a 1980s black jumper that I had found at a thrift shop. I thought that it was cute. Not my style, but I knew somebody out there would like it. I listed it on Etsy, and it sold within a month or so!
How did you guys start going to auctions?
Laura: I think it was always the desire to find a good deal, and the thrill of hunting for treasures!
Was it always this style, or did you start with a different one?
Laura: We were always drawn to vintage and antique. I remember being sixteen, going to a thrift shop, finding vintage items, and not knowing much about them, but knowing that they were beautiful and unique. It really felt like finding a treasure!
Amanda: I think it also all started with grandma when she took us to that one auction.
Laura: Yes!
Amanda: We were pretty young, and going there with her just felt so exciting.
Laura: We bought huge lots of jewelry with our one grandmother. Again, we didn't know much about the contents at the time, but it was so exciting, and so much fun! On our other side of grandparents, we refer to them as our Mom-mom and Pop-pop, they lived in a house that was built in the 1700's - the house is still in our family to this day.
Amanda: It was filled with old stuff. Lots of amazing antiques.
Laura: Two big rooms just filled with antiques, and gilded china. I remember a Victorian sofa that I would always lay on.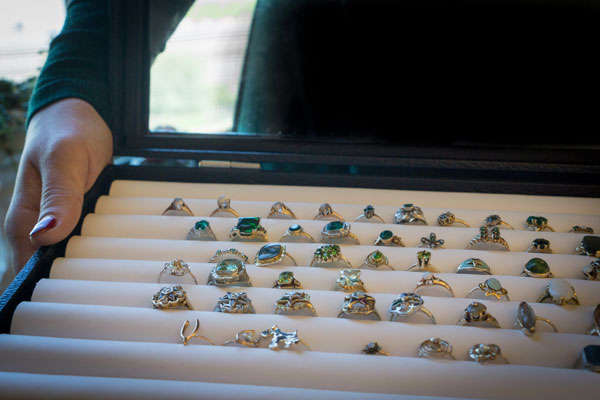 How did you become familiar with Etsy? Most people start out on eBay, but why did you choose Etsy?
Laura: This is really interesting.
Amanda: Yeah, it was right after Etsy started, and my one friend (Dahlia) loved Etsy, and she told us about it. That's why we decided to list it on there. It was a new thing, and it was exciting, so we thought we would give it a try.
Dahlia: It totally seemed like your niche, so I was like, "You guys need to get on here!" I loved Etsy, and was buying a lot of unique vintage, and handmade, things from it.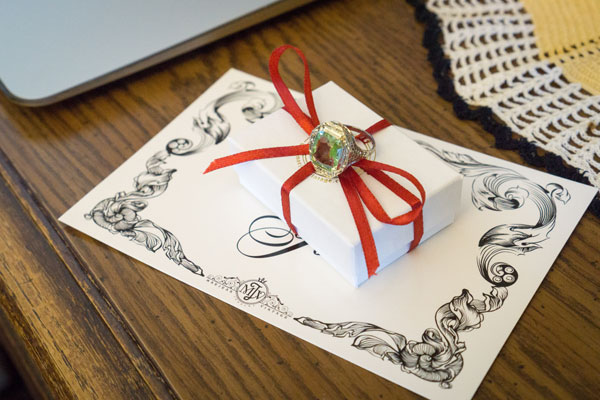 Six years ago, the internet was nothing like it is now. Etsy was around back then?
Dahlia: It was new. Very new.
Are you also the photographer?
Amanda: Yes, I do most of the photography.

You guys are all very DIY in this, and using your own talents. Was photography something you were interested in?
Amanda: In college, I took an Intro to Photography course that taught me the basics, and definitely piqued my interest. We use all natural lighting, and use that handmade white box over there to photograph in.
Laura: And it has been a learning process with photography. When we started out, we were not producing images like we are today.
Amanda: Yeah, they weren't so good. (laughing)
Laura: We had a lot of trial and error.

You guys do all the marketing yourselves, using yourselves as models, and pulling in other influences. Where does this all come about?
Dahlia: We all just throw ideas off each other. When we feel inspired by a certain piece, or era, we love capturing it in photo shoots!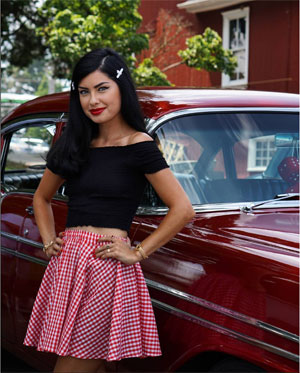 I first met you guys at a retro-fest, and you were there modeling with cars doing shoots with yourselves.

Amanda: Yeah, that wasn't planned!
Laura: At all!
Amanda: We were just dressed up in vintage clothing and jewelry, so we thought we would get some promo shots.

Then, a lot of other photographers starting shooting you guys as well. Is this something you would like to start doing more at events like this?

Dahlia: Yes, definitely! We just saw it online, thought it looked fun, and that it was something we would be into just personally. Then we had the camera, so we thought, "Why not just get some photos?" It was cool to see people were so interested in what we were doing. It wasn't something we were used to, but it was fun!
Amanda: It was good networking there, too. We've been doing a lot of photoshoots since then.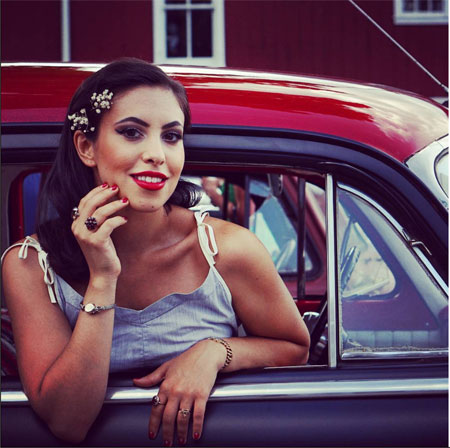 Tell me more about the eras you guys are interested in.

Laura: For me it is definitely the Art Deco Era. I absolutely love it! I like the intricate details, and filigree, of the jewelry. It's so glamorous!
Amanda: For me, I would say it's the Edwardian era. I love the Art Nouveau influence, and the flowers, and swirling leaf designs!
Dahlia: I've always liked the Victorian era. Although I do love aspects of retro and Art Deco jewelry, too. It all just depends on what I'm watching, or reading, or doing.

Your dress has a Victorian look!

Dahlia: Yeah, I do love the Victorian style!

Would you two say that your style matches your favorite eras?

Amanda: I'd say it does!
Laura: Yeah!
Dahlia: I see a lot of 1940s-fashion influence in Laura's style too.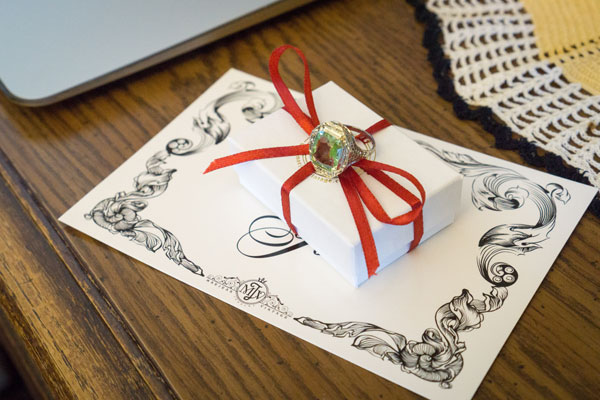 What's your process with your products?

Laura: It all begins with sourcing the inventory. That's probably one of our favorite parts of the process. Going to auctions, estate sales, and flea markets, and finding the treasures. Then that includes buying it at the right price, and making sure it is in good condition.

Is this local? Or, do you travel?

Laura: We do travel, but for the most part, we do stay locally, because we're really in an ideal spot for it!
Amanda: This is considered the antiques capital of the country. We go to our favorite local antique market every week. That's where we get a lot of our inventory.
Laura: We travel to Massachusetts a few times a year. Occasionally we'll travel to New York and Miami, but still, overall we seem to find the best deals here.
Amanda: We also have a lot of relationships with local antique dealers, so a lot of people we work with will hold onto stuff because they know it's something we would buy.

On Etsy, you guys could possibly get worldwide sales. Is there a part of the country that does better for you?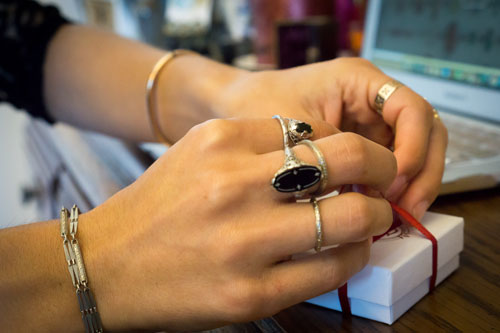 Laura: Most of our sales are within the US, but I'd say that about ¼ of our sales are international.
Dahlia: I often ship orders to the UK, Australia, and even China, and Japan. And we'll never get to meet these people, so it is interesting to see all the different regions, and countries, we deal with. It varies too, one week it will be Australia, and then the next week it will be the UK. So, I never know where I'll be shipping to!

Do you know how they're finding out about you? Is it just Etsy searching and browsing?
Dahlia: I think Instagram has a lot to do with it, because it connects us to a lot of people worldwide. Instagram is definitely the social media outlet that we have the best reach on.
Amanda: I agree.

Do you guys work on your social media together?

ALL: Yeah.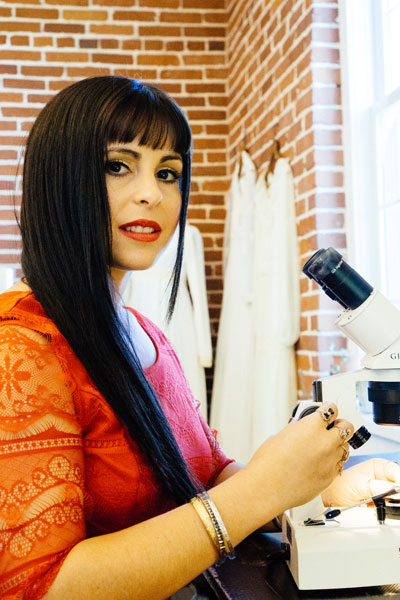 Do you have a strategy for Instagram?

Amanda: We try to post three times a day. There are always trending hashtags, so we pay attention to those.
Dahlia: We try to post a relevant picture for #WeddingWednesday.
Amanda: Every Wednesday we try to promote vintage engagement rings, and wedding rings, with the hashtag #WeddingWednesday.

So you do weddings?

Amanda: Yes, we actually have a bridal photoshoot coming up. We have vintage wedding dresses that the models are going to wear, and we're going to load them up with lots of vintage jewelry. We're also collaborating with other local female business owners for flowers, photography, hair and makeup, and furniture.

That makes a wedding classier?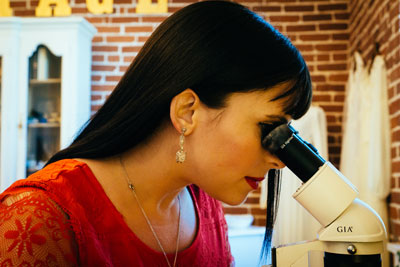 Laura: Yes, it does!
Amanda: Makes it a little more unique too!
Laura: On Instagram, we also do antique photo Friday! We try to stay with what is trending, and that can change from week to week.

Are there other people in your niche doing this?

Laura: Yes, but I'd say it is different from what we do exactly.

So there's competition, but you guys are better!

ALL: (laughing)
Dahlia: I wouldn't say it like that!
Laura: We're all great in different ways.
Amanda: Every shop seems to specialize in different things.
Laura: It's great, because everyone is so friendly, so it doesn't really feel like competition. Everyone is so willing to work with each other.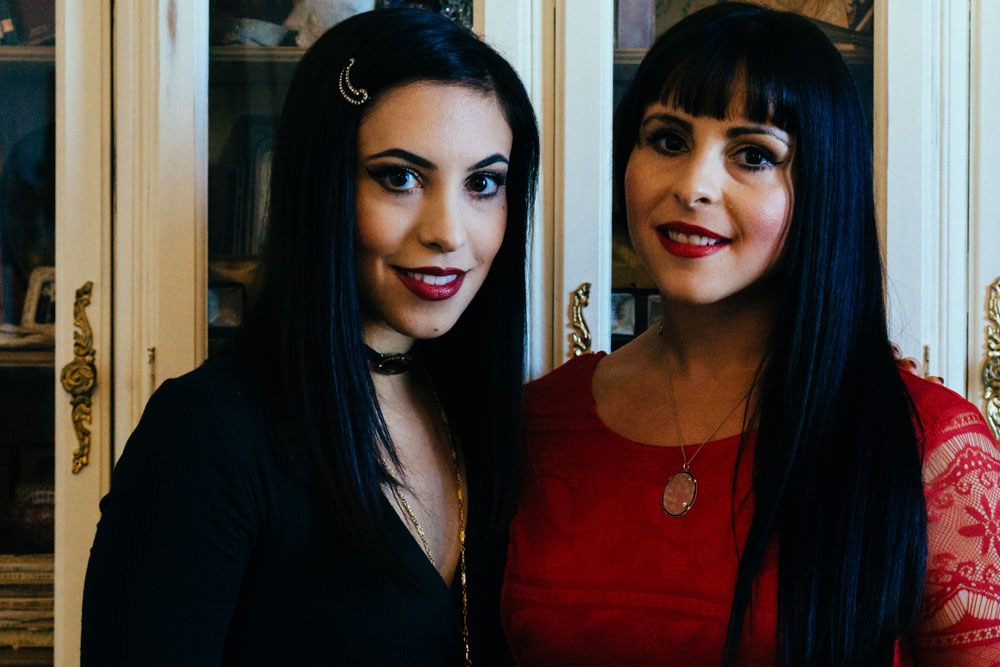 Do you think that's because it's a hobby for you, and not just a business?

ALL: Yeah!
Dahlia: Our personal lives, and our businesses, are sort of one and the same.
Amanda: Yes, that's so true!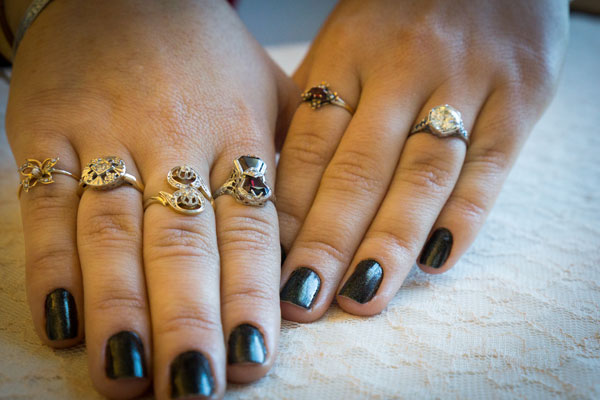 Would you say you love what you do?

Dahlia: I LOVE it!
Laura: We totally do.

It's a great place to come to work. You even have a mascot dog!
Laura: Yep! There she is, CC the Chihuahua!

She's just adorable. What do you guys have planned for the future? Introducing anything new?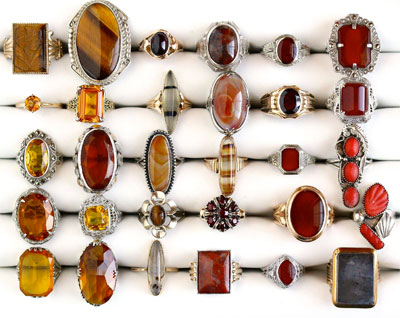 Amanda: We're setting up at our very first vintage market, which is November 26th. Last year, there were about forty vendors, and now this year, there will be over a hundred!

Where is this?

Amanda: Lancaster Masonic Center. This will be our first time setting up. There will be food trucks, and a vintage Santa too!

Have you done booths like this before?

Dahlia: Not really!

This is the first time you guys are real to people!

ALL: Yes! (laughing)
Amanda: It will be cool to meet some of our local customers.
Laura: We're really excited!

Are customers expressing their excitement for coming out and seeing your stuff in real time?

Dahlia: All the time!

How much of your business is local Lancaster?

Amanda: Occasionally, we will ship to Lancaster.
Dahlia: A few times, I'll see a package that we ship to Lancaster, and that always makes me smile when that happens!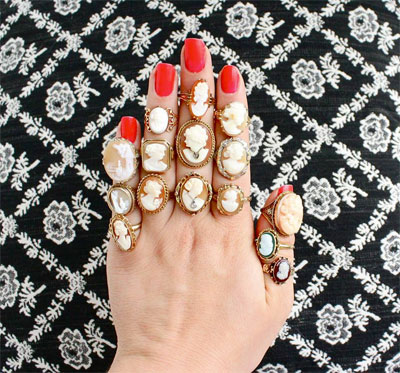 Why do you think that you don't get more local customers?

Amanda: I think a lot of local people don't really know we're here. We sell all over the globe, but we hope more local people learn about us!

There's my next question…is that a dream for you guys to have a physical shop?

Dahlia: Yes, it is a dream! Someday!
ALL: (laughing)
Amanda: I would miss working in my pajamas though!
Dahlia: That is a huge perk of our current situation.

Where would you want the store to be? What would it look like?

Laura: I think it very well could be in Lancaster city. I picture a historical building of some sort, possibly Victorian, with big, beautiful windows! We will see, it's a fluid idea. We're definitely happy with where we are now.

You were talking about trending jewelry that comes through your shop. What causes the trends, and what's trending now?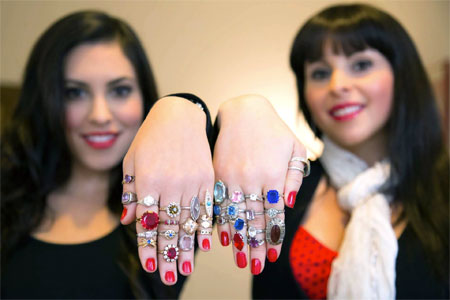 Dahlia: I'd say it's what people see online, or what their favorite celebrity, or star, is wearing. It does change rapidly. It's hard to keep up with it, but we have enough things in our shop that we cover all the bases! They can always come to us for each trend!

Give me an example of that.

Laura: Lady Gaga's engagement ring! It had a heart cut diamond, and now whenever we come across a ring with a heart cut stone, it sells instantly!

Was her ring vintage?

Dahlia: Her ring wasn't vintage, but she does have a vintage style in some ways.
Laura: And she is part of Lancaster County in a way! She stays here frequently, I believe she has a home here.

Have you thought about sending her a ring?

Dahlia: I would LOVE to send her a ring!
Laura: That would be cool! We've done stuff like that in the past; trying to contact celebrities. We've worked with Debra Messing from Will and Grace.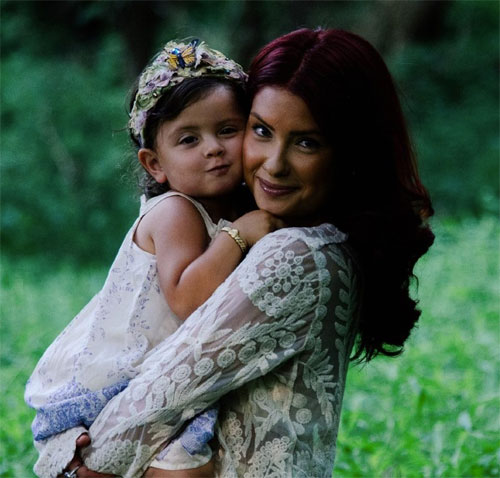 How did that come about?

Laura: Through Instagram!
Dahlia: We shipped her an antique signet ring that had her mom's initial on it.

Did she wear it, and Instagram it?

ALL: Yes.

Did you notice bump in sales from that?
Laura: Definitely tons of followers after that. That was really exciting!

What's selling hot for you guys now?

Amanda: Right now, opals are really hot for us. We can barely keep them in stock.

Do you know why?

Dahlia: It is the birthstone of October, and it is also such a unique gemstone with beautiful play of color.
Laura: I'd also say signet rings with single letters. People see their initial, and that is special. It can represent them, or a significant other.

Why shop vintage over new?

Dahlia: The quality doesn't really compare.
Laura: The quality has stood the test of time. Within my jewelry collection, I do have some modern pieces. If I have an issue, and something needs to be repaired, it's always my modern pieces. My vintage and antique pieces hold up much better. They were made to last.
Dahlia: It's cool to see how far they've come. I'm sure they've gone through a lot to get to this point. When I get new jewelry, it doesn't feel as special, and it doesn't have the history behind it that vintage pieces do.

Is there a better season for you guys sales wise?

Amanda: Right before Christmas, sales are always crazy!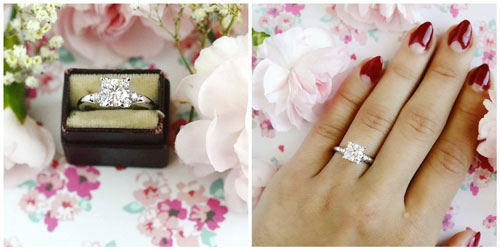 Do you have a lot of male customers shopping for their significant others?

Dahlia: Yes, we do. Even now, since it's wedding season, a lot of guys contact us looking for engagement rings, or wedding bands.

Do you carry men's products?

Laura: We do! We have an entire men's section on our Etsy site.
Amanda: Laura and I are students at the Gemological Institute of America. We're working towards becoming graduate gemologists. Those are our certificates up there on the wall!

What does that mean for you guys?

Laura: In the industry, it's very important. We know what we're looking for, and we know what we're selling.
Amanda: It's an important credential in the business. The knowledge helps us identify, and properly describe, our pieces.
When will you guys complete that?

Laura: Right now, I'm in the Gem Identification course, and I hope to be complete in about six months. After that, I'll go on to the diamond courses.
Amanda: I'm a little ahead of Laura. I finished the diamond program, and I'm about to start my gem identification course.

Do you enjoy it?

Amanda: I love it!
Laura: Yes, we're always learning so much!

Are these programs about learning about the stone, or how to handle it?

Laura: Both. All aspects of gemstones and diamonds - identifying, grading, knowing the origin.

Have you come across any instance where these classes helped you pick out jewelry that many people glanced over?

Amanda: Sometimes people will sell us a ring for really cheap, because they think it's just set with a rhinestone, or glass - and then it turns out it's a genuine stone, like a white sapphire. We make out well in those situations!

Not only is this a hobby for you guys, but you are turning it into a very successful business! Do you realize the business talent you have?

Laura: Yeah, that may have come about from our family. We have a lot of entrepreneurs in our family on both sides. Our Grandma owned a fish shop called Doris's Tropical Fish, and on the other side, our great grandfather is Jacob Zook.
Amanda: He's the famous Hex sign maker.
Laura: And our great grandmother was the artist behind all of it!
Amanda: It's in our blood.
Laura: We're constantly inspired by our family!

A Random Sample of Lancaster Instagram Photographers
Please Like Us On Facebook
Share This Page
naltrexone buy uk
buy naltrexone online usa
tonydyson.co.uk
where to buy low dose naltrexone
Lancaster County Event Calendar
Places to Stay
antidepressant sertraline
buy sertraline online
truonggiang.net
buy sertraline 100mg